Light in our Darkness,
Hope in our World.
Advent Reflections:
Wednesday 4th, Thursday 12th & Thursday 19th December, 7:30pm
Reflections and discussions on the theme: Light in our Darkness, Hope in our World.
Advent and Christmas come with mixed feelings. For many it is exciting and fun as we buy gifts for loved ones and enjoy visiting markets, grottos and special events with children and grandchildren. For others it is a difficult time of year, the pressure to spend when money is tight, loved ones no longer with us and feelings of loneliness and isolation.
On 3 evening's in December (4th, 12th & 19th) we will take a look at where we can find light in our darkness and hope in our world… not in politics, entertainment, fashion or employment but through the simple act of "being with".
Nativity from Scratch:
Sunday 15th December, 10:30am
It's a Christmas Nativity with a bit of a difference…
There is no rehearsal, you can arrive in a costume of your choice or select one from our collection.
If you always dreamed of playing Mary, Joseph or even Herod now is your chance. We don't mind whether we have 1, 2, 3, or even 20 wise men or women… be an angel, a shepherd or if you prefer dress as a donkey, a camel of a sheep.
All we know is it will be fun, probably even silly, a lot of laughter and a wonderful reenactment of the first Christmas in Bethlehem like you've never quite seen before.
The play will be followed by refreshments.
Carols by Candlelight:
Sunday 22nd December, 6:30pm
The church will be decorated with a beautiful array of candles and we'll be singing a selection of wonderful carols looking forward to Christmas.
Mince pies, stolen and other festive treats will be on offer following the service.
There will be a collection taken in support of the work of Embrace the Middle East who seek to tackle poverty and injustice in the Middle East (https://www.embraceme.org/)
Christmas Eve Communion:
Tuesday 24th December, 3:00pm
A quiet, reflective and calm service of communion preparing us for the joy of Christmas.
Amongst all the preparations, the wrapping, last minute shopping, peeling potatoes and sprouts, join us for a moment of calm and contemplation as we quietly read the account of Jesus birth and celebrate his life and death in sharing communion together.
Christmas Celebration:
Wednesday 25th December, 10:30am
A joy filled worship service celebrating the birth of Jesus Christ. There will be joyous carols and Christmas songs, an opportunity to share in the celebration of Christmas and a chance to show us any gifts you may have received already!
Embrace the Middle East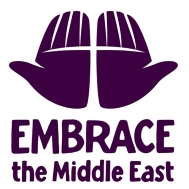 We will be supporting the work of Embrace the Middle East with opportunities to give to their work in the Middle East working towards tackling poverty and injustice. The video below gives insight into some of their work and their are plenty of stories on their website.