Yiewsley Baptist Church was founded in 1900 to let the people of Yiewsley know about the saving grace of our Lord Jesus Christ and to worship and praise Him when meeting together. We are a member of the Baptist Union of Great Britain (BUGB) within the London Baptist Association (LBA).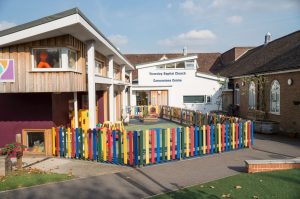 Yiewsley Baptist Church is conveniently placed in the centre of Yiewsley. We are approximately 6 miles from Heathrow Airport, 2 miles from Brunel University and on the edge of the London Borough of Hillingdon, just a stones throw from the borders of Berkshire and Buckinghamshire.
We serve a diverse population, but the area is still very much community orientated, therefore we are a very much community based church.
We are here to serve the local community and as such you are welcome to visit, share you ideas and request prayer for circumstance and situations you are experiencing.
Endeavouring to serve God and the local community Yiewsley Baptist Church developed Yiewsley Cornerstone Centre which is now an independent charity in its own right. With support from the local community and Hillingdon Borough Council a brand new centre was officially opened by The Mayor of Hillingdon on 16th December 2009 and at a dedication service in February 2010 the  President of the Baptist Union of Great Britain, Rev Pat Took blessed the activities that would take place within it.